Our WordPress plugin, WP Table manager is a unique tool to edit tables from your WYSIWYG editor without any HTML knowledge. Build a table like in a spreadsheet, an interface that every user have already used.
The table edition in WordPress editor
When building a website you'll need a tool to create tables. Tables are usually used to display service or product prices, opening hours... the point is that those data need to be edited often and edited by the final client, in charge of the content. WordPress does not include anything by default in its editor so you'll need a plugin for that. Basic WordPress table plugin will help to build a HTML table but then, think about how complicated it will be for final user to or simply add row or a column in the table.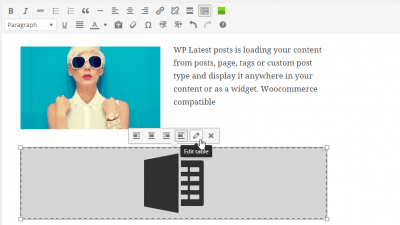 With WP Table Manager, from the editor, click on a table or on graph to load and edit it.
Edit table data, a piece of cake
I mean really, a piece of cake. Every computer user has seen a spreadsheet in its digital life. This is the same process to edit the content, double-click on a cell or click on the + to a row or a column, that's it.

To apply the modification on the public website it's automatic and you got an "Undo" feature.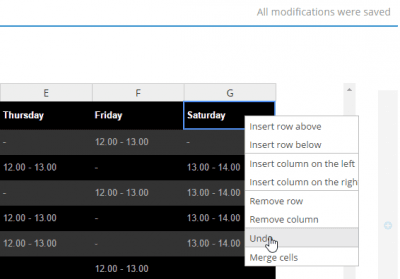 Plus, if you need to create more complex content in a single cell, you can switch to HTML cell format and used the full visual editor.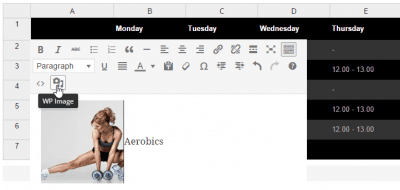 To start fast we've included 6 themes that you can apply in a click.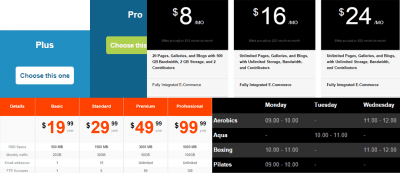 A real table editor for webmasters
As a webmaster, you will find some great professional tools like HTML cell edition that includes full access to WordPress default visual editor. It means that you can play with HTML in each cell. Table category, table copy, use several calculations are also included in the plugin.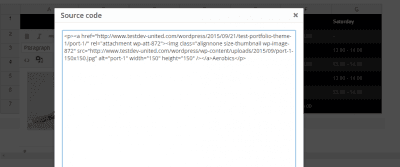 A custom CSS editor per table can also be used to make the design pixel perfect. Colored CSS with syntax based on codemirror integration make the thing easier

Excel import/export, use the tool to transfer data from one WP Table to another to import your spreadsheet and start editing it online.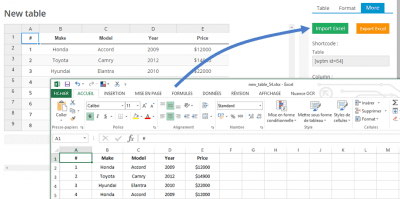 Create chart from your table
The chart tool is something unique in WordPress you can generate multiple chart from a table and update will be automatic then. Charts are totally independent from table regarding the layout, you're free to insert only a chart without its data source. Charts are based on chart.js so it's nice and you can setup, size & colors.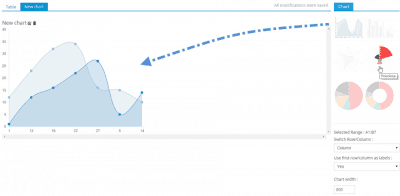 Table manager features
There's tons of other features in the table manager and more to come!
Multiple table instance
Column AJAX ordering
6 designed themes
Apply automatic two frame line color
Resize with handles for lines & columns
SUM COUNT CONCAT MIN MAX AVG HTML
cell format (add image, links,...)
Right click edition to insert remove row/column
Font and borders quick edit
Sorting data on public side
Responsive with column hide or scroll
Apply border, border radius, box shadow
Feature table theme, price comparison tables theme
Custom CSS edition for each table
Chart.js integration with 6 styles
Frontend table edition
Cell merging Table copy function
Working table manager video demo