20 Free yet High-Quality Joomla Templates by Reputable Providers Millions of web developers, bloggers and online retailers entrust their websites to Joomla. Some users like its open-source nature, while others appreciate it for frequent updates.
There are also those who choose it for easy content management and those who are fond of its feature-rich essence. Because of all these and many other advantages, the community of Joomla users is constantly growing. To help its members with web design issues, we have prepared an exclusive set of free Joomla templates. They can be used either to create a new site from scratch or redesign a current web resource. It is a well-known fact that today the Internet is flooded with a lot of free Joomla templates, but, frankly speaking, many of them look out-of-date, and their functionalities leave much to be desired. For that reason, users often have to invest a good portion of their time if they want to come across something worthwhile that is available at no cost.
To facilitate this search, we have filled our collection with free, yet high-quality, templates. These are compatible with Joomla 3 and released by reputable companies such as TemplateMonster, JoomlaShine, LTheme, and Joomlatd, to name a few. Whether you need a design for an online store, portfolio, or a blog, you are guaranteed to find an appropriate option for your website type. The templates presented below are also carefully picked for a wide range of categories, e.g. business, education, real estate, travelling, photography, food… Don't hesitate to look through our selection to check the full list of business niches these templates embrace.
Ulmus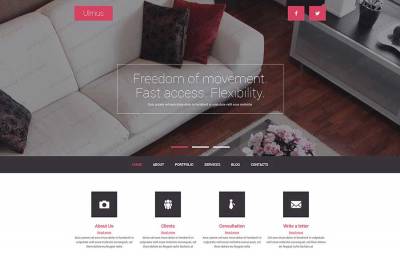 Ulmus is an Interior & Furniture Joomla template optimized for mobile devices, modern browsers, and search engines. It features a full-width slider, well composed structure, dark purple & red accents, refined font, ghost buttons, and sleek icons. Representation of visual content is enhanced by HTML + JavaScript animation, parallax, and lazy load effects. With a lot of white space, the template will make your website interface easy on the eye.
* * *
Td Esgat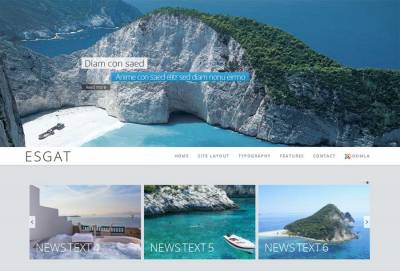 Consider Td Esgat to promote your travel agency on the web. Enriched with Bootstrap functions, this responsive template has 30 fully collapsible module positions, 4 color styles, many shortcodes, Kenburn slider, back-to-top button, floating menu, etc. A logo embed option will let you accentuate your corporate identity, and a background color picker will favor this initiative.
* * *
JSN One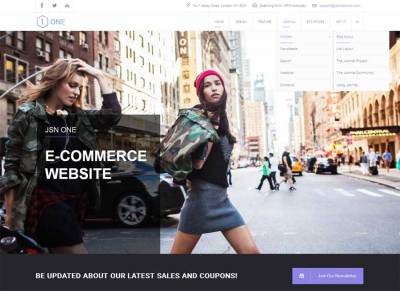 JSN One is a modern eCommerce Joomla template resembling the street style in its look. As for the functional aspect, it is powered by a number of advanced extensions. These can come in handy for building pages, showing images, creating web forms, managing content, and optimizing a website for mobile screens. The template's design also features multiple UI elements such as accordions, tabs, carousels, buttons, pricing tables, and parallax scrolling backgrounds.
* * *
JM Internet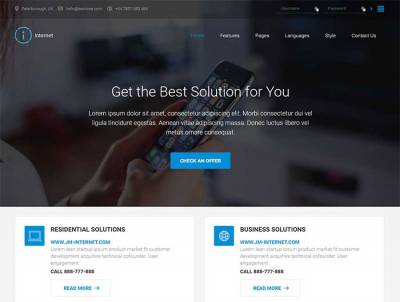 This responsive Joomla template is made specifically for providers of Internet services, but can also be adapted to any business-related site, e.g. financial, consulting, outsourcing, and others. Based on EF4 Framework, JM Internet is easily configurable – only a few clicks will be enough to change font and color settings. The template is also packed with useful extensions. For example, DJ-ImageSlider allows for the creation of slideshows with captions linked to URLs, whereas DJ-EasyContact enables clients to send their phone numbers so that members of your team can call them.
* * *
Yarnio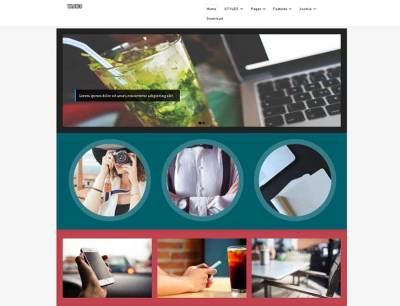 Yarnio is a Photography Joomla template built with HTML5 and CSS3 techniques. Backed by Gantry Framework, it works in all the popular browsers such as Safari, IE, Chrome, Opera and Firefox. Yarnio is integrated with many extensions, namely RokBox to showcase different media formats, RokPad to edit styles, and RokSprocket to control content. In the template's functionality there are also modules for scrolling animation and hover effects.
* * *
FoodWorld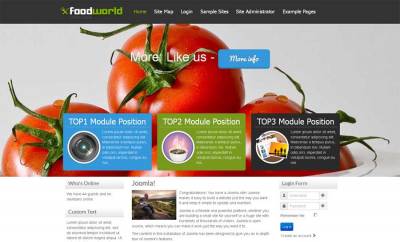 FoodWorld is developed for restaurants, cafes, or any other sites related to the food industry, but, in fact, it can be used anywhere. Just change images throughout its layout, and you will have a professional design for your particular web resource. Its responsive layout will let you reach users of smartphones and tablets, which is a must nowadays. The template is also integrated with Social Bookmarking and has multiple module positions.
* * *
LT Personal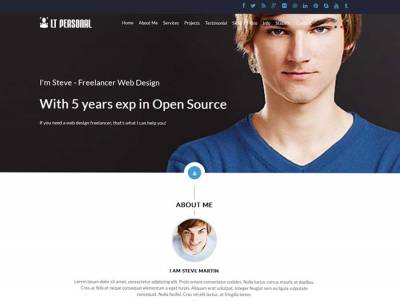 Make use of LT Personal if you are eager to create a stylish web portfolio or personal page. This single-page Joomla template is based on the framework featuring many module positions and shortcodes. It comes with 6 default palettes, but they can also be changed with any other color via Color Picker. Drag-and-drop tools provide unlimited possibilities of customization, whereas responsive layout ensures a flawless visual experience on devices of any type.
* * *
NaturalWay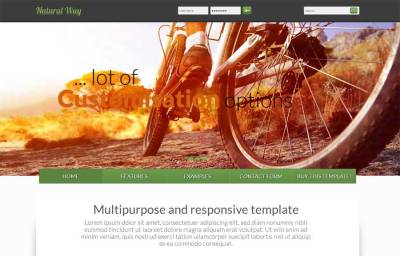 NaturalWay is a contemporary Joomla template designed for online portals dedicated to the topic of sport. Its interface features a back-to-top button and menu with evenly distributed items to facilitate navigation. A full-width slider in the header creates a powerful focal point to make your visual content more appealing. Being fully responsive, NaturalWay will adjust to screens of high-definition computer monitors and small displays of mobile devices.
* * *
ClassyHome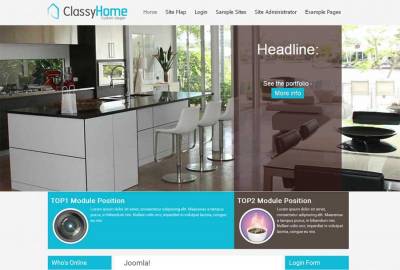 ClassyHome is a perfect solution to websites of hotels, architectural bureaus, real estate firms, and companies involved in interior & exterior design. With the inclusion of a built-in slider, you will have an opportunity to show your projects from a closer perspective. With this template, your site will be linked to your accounts in social networks, which will let you improve your business visibility.
* * *
Design Control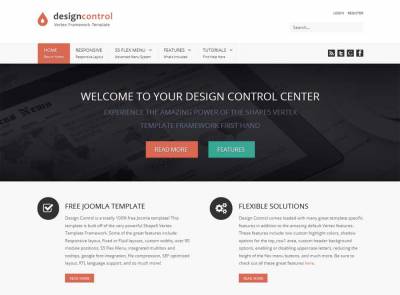 Design Control is a multi-purpose Joomla template powered by the functionally rich Vertex Framework. More than 600 Google fonts, RTL support, parallax backgrounds, regular updates, dropdown slide panel, fixed tabs, - this is a partial list of what the template offers to its users. One of the features deserving special attention is the S5 Flex Menu System with unlimited items, 40 positions, subtext embed option, and floating menu.
* * *
Zenith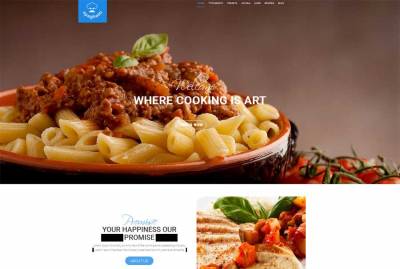 Zenith is a K2-supporting Joomla template equipped with Bootstrap. It has 4 preset styles, but you are also welcome to design your own one thanks to the flexibility of Expose Framework. As for the other sophisticated features of Zenith, you can take advantage of a mega menu, diverse typography, responsive layout, HTML5 & CSS3, and cross-browser compatibility.
* * *
nuModusVersus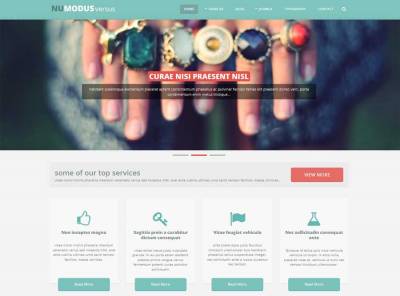 Here is another free Joomla template compatible with K2, a tool with rich content forms. With its aid, you will be able to add slideshows, image and video galleries to your posts. What's more, nuModusVersus is notable for an edgy slider, feature lists, 3 color blends, over 350 icons and different content blocks. They include testimonials, client section, blog, and some others.
* * *
Favourite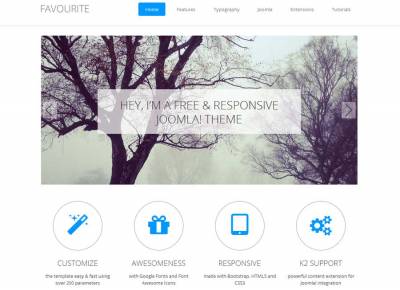 Favourite is a Joomla template packed with responsive extensions, particularly K2, FavImageHover, FavSlider, and others. In its package, you will find over 40 module positions, 10 color styles, Font Awesome icons, and Google web fonts. Using this template, you will be able to enhance your site with a logo and add a striking image to the background of its interface. For easier and faster customization, Favourite features an extensive set of over 200 parameters.
* * *
B2J Wooden Wall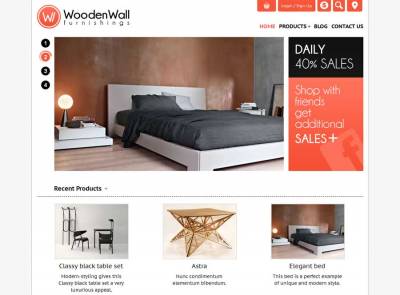 B2J Wooden Wall is a lightweight VirtueMart template meant to extend the possibilities of your eCommerce site. It is easy to customize, optimized for modern browsers and meets the major SEO standards. The extensions integrated into the template's functionality include B2J Aquarius Product Zoom PRO, B2J Image Slider, and B2J Social Sharer.
* * *
My Micro
My Micro is a free business template featuring T3 Framework with Bootstrap in its core. It provides RTL language supports, 2 kinds of menus (mega and off-canvas), Font Awesome 3 & 4 sets, visual configuration options, and rich markup. This flexible Joomla template can be scaled to the following responsive layouts: Mobile, Tablet, XTablet, Normal and Wide.
* * *
StylishPhotography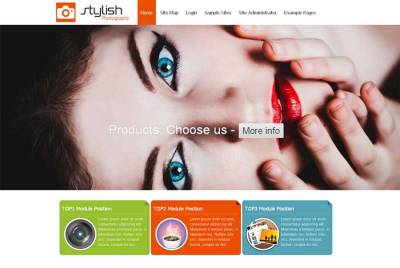 Create a pixel-perfect presentation of your photographs with this minimalistic Joomla template. Its clean, well-defined layout will provide enjoyable browsing experience for your website visitors. StylishPhotography is also supplied with a full-width slider, social media icons, tabs, several module positions, custom footer, etc.
* * *
LT University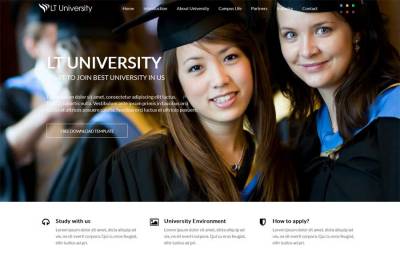 LT University is a one-page Joomla template tailor-made for websites of schools, universities, libraries and other educational institutions. By means of color settings and drag-and-drop tools, you will have an opportunity to modify your site in a unique way. This responsive template also features 6 default color schemes in case you don't have much time for customizing your site.
* * *
JSN Venture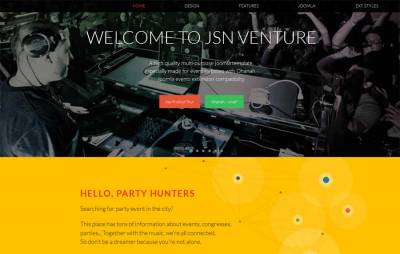 JSN Venture is meant for entertainment websites of nightclubs, discos, music festivals, etc. This flat-style Joomla template is prebuilt with extensions functioning properly in modern browsers and on all types of devices regardless of their screen parameters. One of them is JSN PageBuilder that facilitates the process of creating new pages and redesigning old ones, with no coding involved. Another useful extension embedded into the template's package is JSN PowerAdmin intended for easier content management.
* * *
Pulse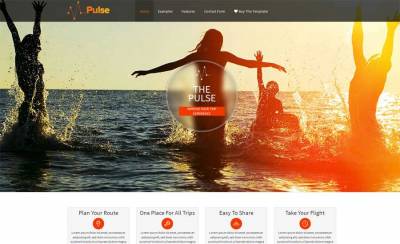 Pulse is suitable for web resources related to tourism and leisure activities. Thanks to a full-width slider, harmonic color mix, and parallax scrolling effect, you can ensure a memorable visual experience for the audience. A lazy load technique will make pages on your site load faster, which will reduce its bounce rates dramatically. A sticky menu will give visitors an immediate access to all the website locations so that they could proceed to any page in no time.
* * *
TD Optes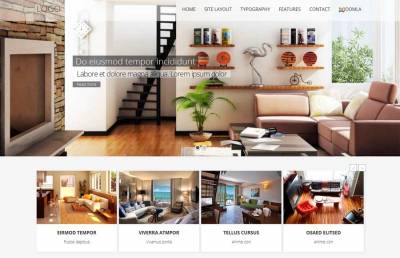 The last free Joomla template listed in our set is TD Optes, developed for furniture companies. This CSS-based design features full-width Kenburn slider with captions, fixed dropdown menu, social media icons, Google map, tabs, and much more. TD Optes comes with 4 premade color styles and makes it possible to change a background hue. On top of everything, this mobile-friendly template provides compatibility with IE, Mozilla, Camino, Firefox, Safari, and Opera.
* * *
Every Joomla template in this collection has its own benefits that can transform an ordinary web resource into eye-candy. Free access makes it possible to apply each of them to your site so that you can find the most suitable option for it. Before installing any of them, you are advised to back up your site - just in case. Are you aware of any other free templates of great value? Then, share them with us in the section with comments, please.
AUTHOR'S BIO: Nick Campbell, the author of this article, is fond of writing posts on various subjects, particularly web design, e-commerce, social media, marketing, business, and education. He has been involved in the content creation sphere for more than two years. Nick is primarily focused on covering modern trends in a specific industry to help his readers keep abreast of the latest news. If you don't want to miss any brand new developments in the aforementioned topics, follow Nick Campbell on Google+!