There is no secret that internet covered all the areas of our life recently. People are spending more and more time online and have moved most of their essential everyday activities there. This works mutually beneficial for the businessman and for the consumer. The later gets every product or service he needs without leaving his flat. And the businessmen now have more possibilities to offer what they have.
There are dozens of options if you decided to start online business. The most obvious one is an online store, where you are directly selling the product or the service and get money for that. If you run a company you should take care of its online representation. Thus you indirectly contribute to the development of your business and respectively get more clients. Blogging is another area you can commercialize. Google Ads, affiliate and content marketing are always at your disposal. As you see, the purpose is one, but it is reached through different means. Web developers have lately taken care of it and created various CMS fitting this or that strategy.
Wegy - Stunning Multipurpose Joomla Template
Wegy is a professional multifunctional Joomla theme. Thanks to 14 pre-designed pages and VirtueMart integration it can be transformed into anything and serve the purpose you want. All the elements are fully customizable, starting from color scheme and ending with the layout structure. 10+ social modules will provide you with decent representation of your website in social networks. Trendy parallax scrolling involves visitors and adds a little dynamics.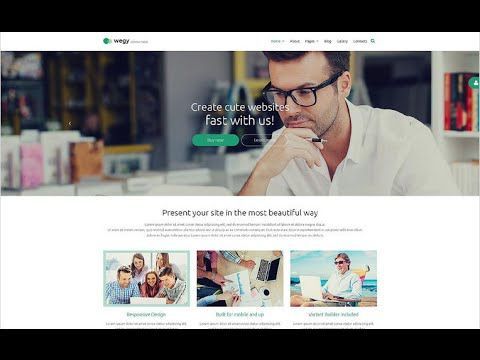 Pintex -Professional Multipurpose Joomla Template
Pintex features so popular nowadays flat design. Stylish ghost buttons and unusual layout structure make the theme look spacious and concentrates attention on the content. Being powered by Bootstrap your website can be enriched with icons, dropdowns and many other elements. Color switcher allows you to modify palette with one click. Fully responsive design and cross-browser compatibility provide flawless performance on whatever device.
Gerdo Business Joomla Template
Details | Demo
This template is a perfect match for business websites. It greets the visitor with full-width slider with retina ready images. Smooth parallax scrolling then leads their attention to the benefits they get choosing your company. Stunning grid-based gallery, where each element can be enlarged on a click, is a decent representation of your latest projects. Functional counter will speak loader to those visitors who are believe numbers more than words.
Virginia Corporate Joomla Template
Details | Demo
This fully responsive design will easily adapt to any device your visitors might be using. Its clean white layout with thin readable fonts is content oriented. Parallax leads your visitor smoothly through your company's story. Lazy load effect guarantees minimal loading time. Sticky menu, counter, Google map widget along with advanced customization options create a really powerful foundation for your future website.
Boston Business Company Joomla Template
Details | Demo
This template looks really original and breaks stereotypes of business websites. Its sticky sidebar menu is hidden behind compact hamburger button and reveals on click. Unusual arrangement of UI elements also makes the theme prominent and unlike the others. Handy contact form in the footer makes it easy to get in touch with you. Social login option will be appreciated by your clients. Lazy load effect serves for quick and seamless loading of the page.
Rhombus Business Center Joomla Template
Details | Demo
Snow white background with lots rhombus elements in the design creates a special aesthetical look. Wise use of negative space in this minimal layout focuses the eye on the content blocks. Sticky MegaMenu provides positive and user-friendly navigation experience. One click on the minimalistic icon in the upper right corner uncovers popup login form. With theme color switcher you will easily adjust the template to your corporate style.
Heather Grant - Financial Advisor Joomla Template
Details | Demo
This catchy template will fit both big companies and individual professionals. Its layout structure interlaces bright flat content blocks with stunning positive photos. Use of ghost buttons and negative space makes it airy and easy to look through. With color switcher you can choose any color scheme you like. The theme is extremely flexible and can be adjusted to any business niche. Sliced layered PSD files give you even more freedom in customization.
Consulting Services Joomla Template
Details | Demo
The template features everything a modern website should have. Its responsive design, cross browser compatibility and clean valid coding are even out of discussion. The advantages of your company are presented gradually through smooth parallax scrolling with lazy load effect. A set of pre-designed pages, including Blog and Forum page, along with advanced customization options allow you to build the website you want.
Clever Business Joomla Template
Details | Demo
Full-screen header slider attracts attention at once. A click on hamburger button shows handy dropdown menu. Functional blocks right under the slider present perfectly the benefits of cooperation with you. Masonry style gallery looks original and appropriate here. Large Follow us and Newsletter section makes it hard to pass them by. Footer area features full-width Google map making it easy to find your company's location.
Proconsult Corporate Joomla Template
Details | Demo
This template is ideal choice for online representation of your company. Its well-structured layout allows describing your advantages, services you provide, projects you are developing and your team in a professional manner. Testimonials section serves for raising the trust level to your business. Rich UI kit allows you adding lots of UI elements. Burger menu doesn't distract attention, but is always available on click.
Business Strategy Joomla Template
Details | Demo
This simple and content oriented layout will quickly and easily attract customers to your side. Its 14 pre-designed pages will help you to form the backbone of your website as well as enhance it with blog or forum functionality. Social login option allows customers to log in through Facebook or Google account. The template is flexible and fully customizable. Thus you can make it look the way you want with just several clicks.
Gitex Financial Joomla Template
Details | Demo
This template is going to fit financial as well as any other business niche. It is easily editable and doesn't require any deep coding knowledge to customize it. The layout is simple yet appealing and features everything you may need for a full representation of your company online. Blog functionality serves for building strong relations with your audience. Komento comments extension provides handy commenting options for interaction with your clients.
Advertising Agency Joomla Template
Details | Demo
Huge images and big fonts of this template really help your company to make a name. Content blocks are visually separated making it easy to look through the page. The grid-based gallery of your latest projects has nice hover effect. Usage of bright colors and polygons in the design create a trendy look of the website. And by the way you can change the color scheme on a click if you feel like that.
Smartex Business Joomla Template
Details | Demo
Smart design of this theme features rounded forms, ghost buttons and lots of negative space creating airy feeling and putting the content blocks into focus. Video integration allows you to make a video presentation of your company. Interactive Google map in the footer displays location of your company making it easy to find the best way to your office. MegaMenu facilitates navigation and allows you to show more information to your clients.
Fernando Corporate Joomla Template
Details | Demo
This corporate theme looks original und unusual thanks to the bright accents and inconspicuous animation. Trendy parallax scrolling keeps the visitors engaged and adds vividness to the website. Sticky MegaMenu allows you to organize categories and subcategories, along with including other options into the menu. Fully customizable layout is a great opportunity to experiment with colors and forms.
As you see there are lots of possibilities for those who decided to start their own online business. There is a wide range of themes to choose from. Although, as you surely understand, launching a website is just the beginning. You still need to go a long way to develop it and to boast a successful business. Sometimes it is hard to define where to start from. Not to run around doing all the things at the same time and getting no effect it is better to listen to the professionals. You can find them on Startup Hub. This information-rich resource offers everything starting from choosing the template and ending with useful SEO tips and marketing secrets. Even an experienced web master will find something new to learn there.