WP Speed of Light: Integración CDN
Primero vas a WP Speed of Light> Optimización de la velocidad> Integración de CDN en el menú de la izquierda.

Luego, activa CDN y llena su información de CDN aquí.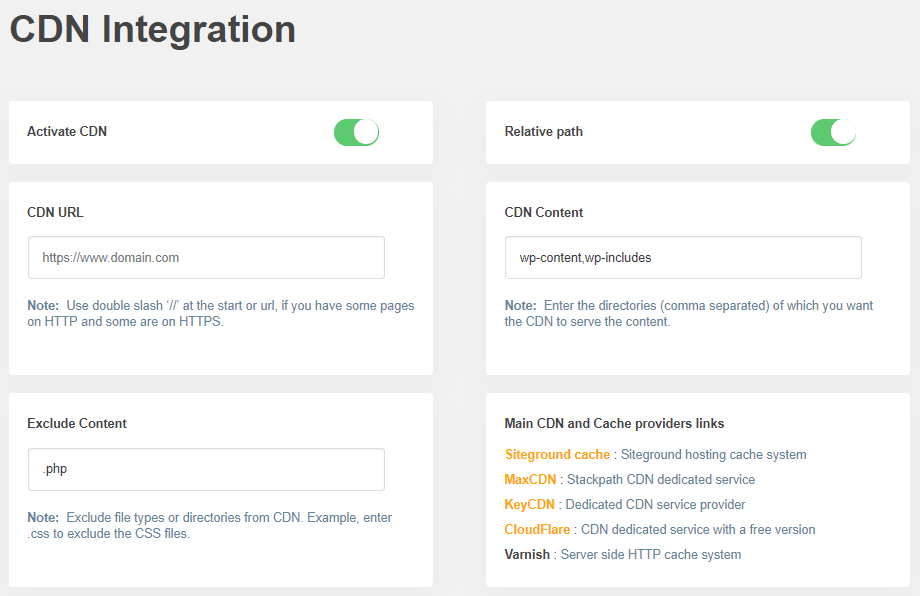 URL de CDN: Agregue su URL de CDN, sin la barra diagonal (al final).

Contenido de CDN: Su contenido de WordPress servido a través de recursos CDN, separados por una coma. Por defecto, wp-content, wp-includes.

Excluir contenido: Excluir el tipo de archivo o directorios de la red CDN.

Camino relativo: Habilitado de forma predeterminada, Habilitar / Deshabilitar el CDN para recursos de rutas relativas. Se utiliza para algunas compatibilidades con plugins específicos de Wordpress.
SOLO PRO ADDON - Incluye limpieza automática de caché específica para:
Caché de campo: Limpie la caché de Siteground cuando se realiza una limpieza de caché

Caché MaxCDN: Limpie la memoria caché de MaxCDN cuando se realiza una limpieza de la memoria caché

KeyCDN caché: limpie el caché de KeyCDN cuando se realiza un borrado de caché

CloudFlare caché: limpie el caché de CloudFlare cuando se realiza un borrado de caché

Caché de barniz: Limpie la caché de barniz cuando se realiza una limpieza de caché