WP Table Manager: Almindelig brug
Hovedidéen for WP Table Manager er at styre alle tabellerne fra editoren, selvom du har en pluginvisning. WP Table Manager virker på hver WordPress WYSIWYG editor, både til frontend og backend. For eksempel kan du bruge det i et brugerdefineret WordPress-modul.
 
1. Administrer tabeller fra artiklen

Når WP Table Manager er installeret, har du en editorsknap, der vises under din editor. Klik på den for at åbne hovedvisningen WP Table Manager.
Tabelforvalter i en lightbox åbnet fra et indlæg:
Når du vil indsætte et bord i din editor, skal du bruge den øverste højre knap. Indsæt denne tabel for at sætte den i din artikel. Derefter bliver bordet materialiseret med et gråt område og et Excel-ikon.
Hvis du klikker på området, klikkes derefter på knappen WP Table Manager igen, tabellen, der tidligere blev tilføjet.
Gutenberg er imidlertid standardredaktøren i WordPress nu, så du kan se på 2,7 blokke i gutenberg
2. Administrer tabeller og kategorier
Tabeller er klassificeret inden for kategorier. Du kan have så mange tabeller, som du vil have indenfor kategorier.
For at oprette en tabellen kategori, klik på Ny tabellen kategori knap på dashboardoverskriften. For at oprette et nyt bord skal du bare klikke på Opret tabel knappen.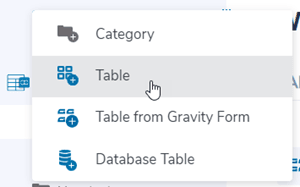 Kategorien kan styres ved at placere din mus på den, du vil kunne redigere navnet eller slette det.
For at bestille kategorierne kan du bruge drag'n drop-funktion.
Hvis du lægger musen på bordets titel, vises ikoner for at redigere bordets titel, kopiere bordet (alt bordet inklusive data og skabelon) eller affald det.
3. Tabeludgave
For at tilføje data i tabeller skal du handle som om du er i et spreadsheat. Dobbeltklik på en celle giver dig mulighed for at opdatere indhold, et enkelt klik for at vælge en / nogle celler (og for eksempel at anvende stil).
For at tilføje linjer eller kolonner skal du klikke på + på bordgrænsen eller bruge højre klik!
For at kopiere celler kan du bruge CTRL + C / CTRL + V (eller de æble ting der gør det samme J), ​​eller du kan også lægge din mus i nederste højre hjørne af cellen og bringe den i den ønskede retning.
Du har mulighed for at fortryde den seneste ændring.
WP Table Manager holder en sikkerhedskopi af den ændring, du har gjort, og er i stand til at gendanne den.
4. Avanceret indholdsudgave
Du kan tilføje HTML-indhold med en WYSIWYG-editor inden for hver celle. Vælg en celle på højre side Formatér> HTML.
Nu, når du redigerer cellen, har du HTML editor indenfor. Billede og HTML er tilgængelige.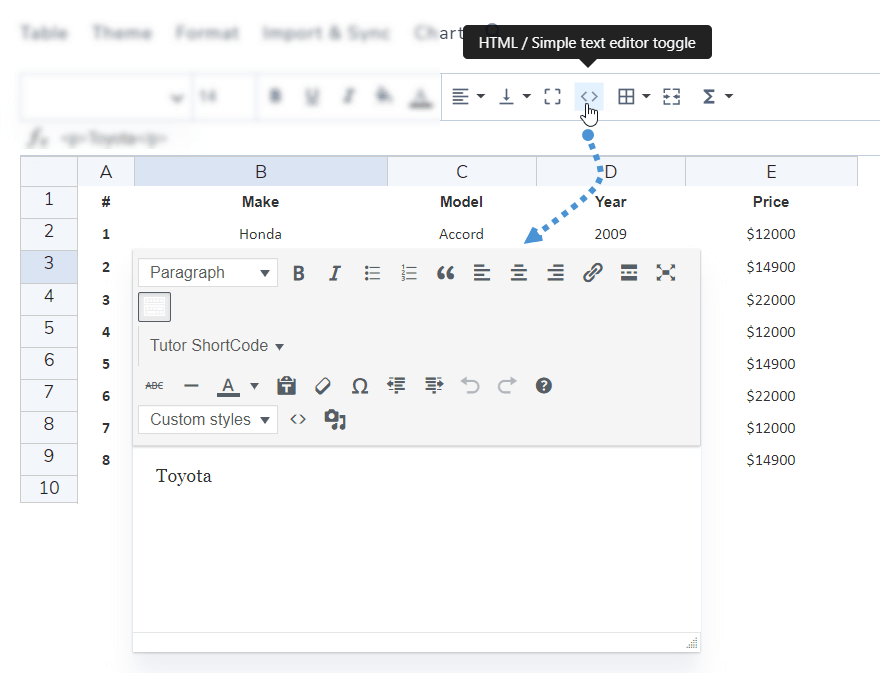 Cellerne kan også fusioneres. Vælg 2 celler eller mere og gør et højreklik, en menu giver dig mulighed for at gøre sammenlægningen.
5. Import / eksport af Excel og regneark
Du kan importere og eksportere regneark i WP Table Manager ved hjælp af vores dedikerede værktøj.
Tabellerne kan importeres fra Excel eller åbne kontorsdokumenter. Formatet registreres automatisk og importeres. Bemærk, at kun den første Excel-side vil blive importeret.
Eksporten kan udføres i Excel 2003 eller 2007 format.
6. Kort kode
Hver tabel har sin shortcode, du kan finde på Flere faneblade på højre panel. Derefter kan du nemt dele bordet med kortnummeret, fx: [wptm id = 8]
7. Blokke i Gutenberg
Du kan vise dine tabeller eller diagrammer i Gutenberg editor nu. Disse to WP Table Manager-blokke er WP Table Manager og WP Table Manager-diagrammer.
For at vise et bord i Gutenberg editor, skal du klikke på WP Table Manager knappen i kategorien Widgets. Der vises en rullemenu, og du vælger derefter det bord, du vil vise i frontend.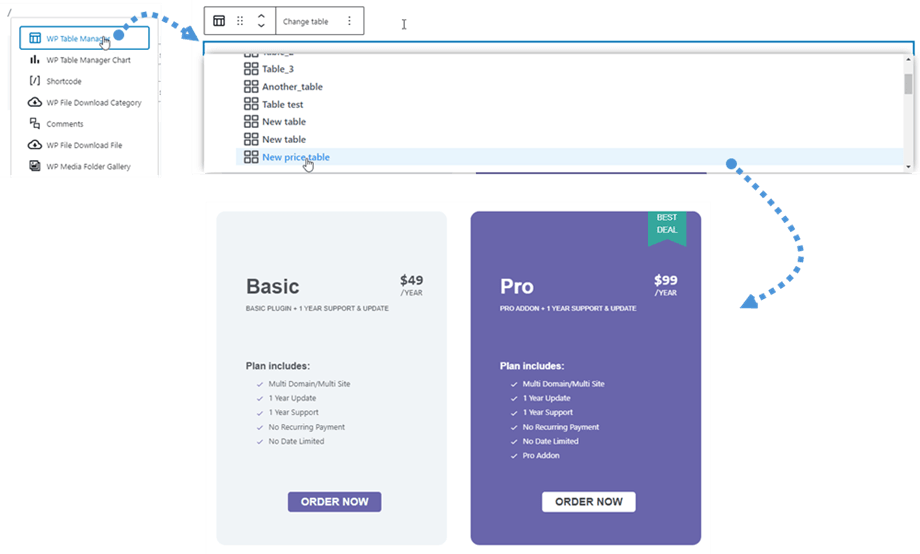 Det ligner et diagram, og klikker på WP Table Manager diagram knappen i kategorien Widgets. Så vælger du et diagram på rullemenuen.